After a rollercoaster few years, 2022 can be perhaps best described as an indifferent year for the gaming industry. Key title delays, economic uncertainty and consumers and markets navigating new post-pandemic behaviour weighed on the overall console and PC software sales.  But it could be argued that the market held up well considering these headwinds; preliminary data suggests that overall console and PC software unit sales (physical and digital combined) declined by approximately 10% in Europe year-on-year in 2022*, only a marginally worse YoY performance compared to 2021 vs 2020. 
And despite two years of decline, 2022 European unit sales matched those of pre-pandemic 2019, providing some encouragement in an increasingly fragmented and challenging landscape (the pandemic boosted year of 2020 looks set to be the peak year for this sector for the foreseeable future, as subscriptions steadily grow in significance).
Nintendo Switch Remains Top Dog
The continued robustness of Switch sales has been key in supporting the overall market throughout 2022, helped by new Pokémon releases, Nintendo Switch Sports and the evergreen Mario Kart 8 Deluxe. Combined, these titles took 4 out of the top 5 spots for best-selling physical titles in the key European territories.
Switch continues to dominate physical console software sales in Europe, these physical sales alone are accounting for an increasing share of overall physical and digital sales year on year. Although annual sales of its physical software may have peaked, its solid performance continues to demonstrate how important the Switch is for the health of the overall games industry and in reaching a broader audience. A Switch successor may well be in the offing for 2024, further strengthening Nintendo's resolve.
Sales of legacy PlayStation and Xbox titles across physical and digital combined continued their decline, with strong YoY growth for Xbox Series and PS5 unable to fully compensate for this gap. Performance was not helped by a weaker slate than originally anticipated, but this in turn could provide some encouragement for 2023, with a bumper line up potentially helping slow sales decline.  In addition, improved supply of PS5 consoles could see total PS5 software sales close in on total PS4 sales in 2023 in Europe.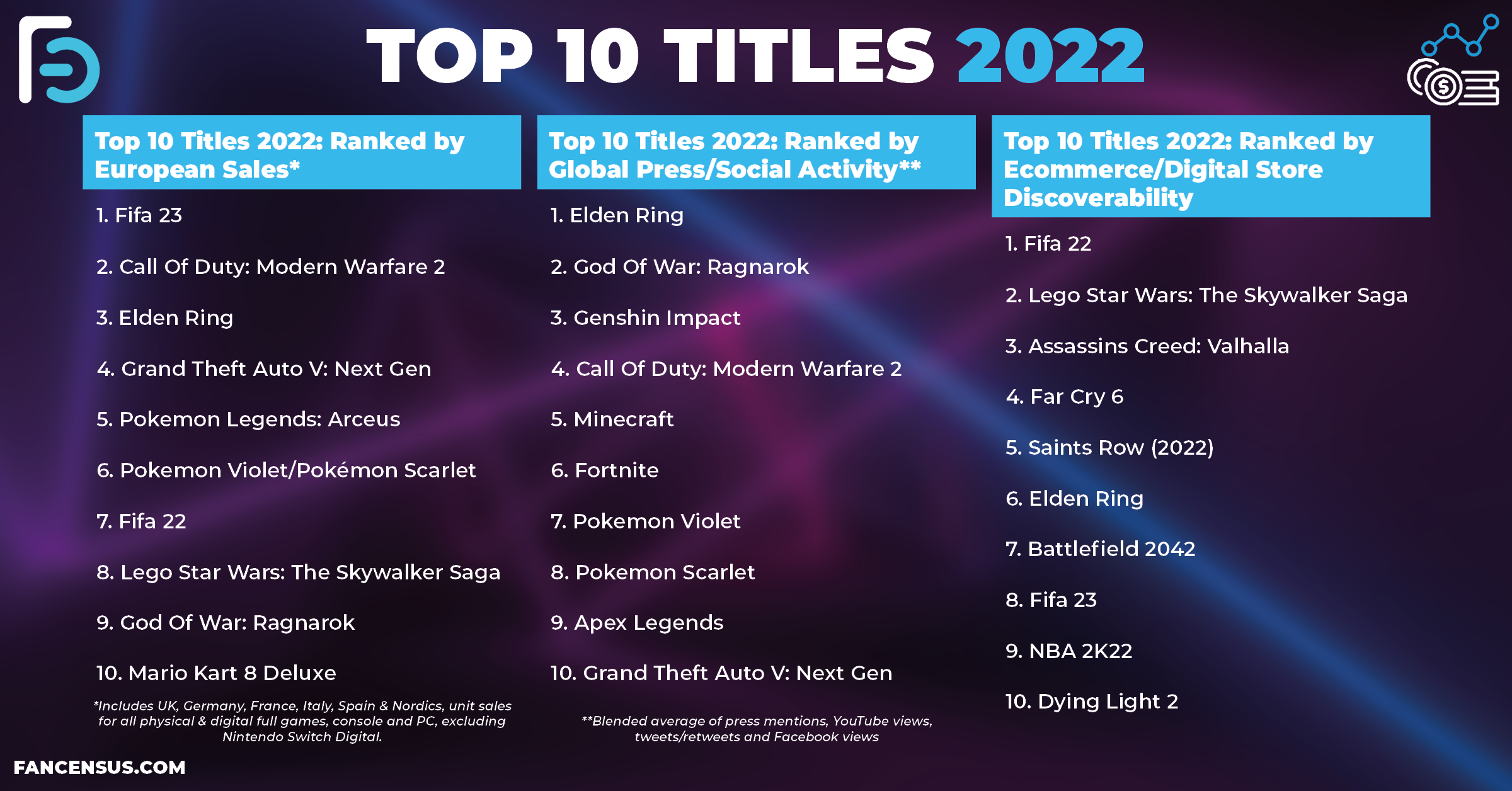 FIFA 23 & Elden Ring Impress
Unsurprisingly, FIFA 23 was easily the number 1 top selling title in Europe, weighing in with a similar number of units sold compared to sales of its predecessor in 2021.The final swansong of the FIFA & EA partnership saw it boosted by the year end World Cup, helping keep discoverability of the title high.
There were a number of other titles which also caught the eye, Elden Ring was arguably the most impressive performer when combing metrics across press, social, discoverability and sales. It achieved easily the greatest number of press mentions and headlines and ranked highly in terms of YouTube, Twitter and Facebook activity. It weighed in at #3 in terms of sales for the year and its success was further underlined when it won countless game of the year awards including that at the 2022 Game Awards.
Separately, Call of Duty: Modern Warfare 2 was not only the second best selling title in 2022, it also ranked in the top 5 titles for Press/Social. Lego Star Wars: The Skywalker Saga snuck into the top 10 best-selling titles in Europe, helped by strong discoverability (ranked #2), despite it barely scraping into the top 50 titles for press/social.  It is also worth noting that many of the other most discoverable titles for full year 2022 were titles released before the beginning of the year.
Pokémon Violet/Scarlet are also worth a mention – individually they ranked 7th and 8th in terms of press/social and combined were in the top 10 best selling titles in Europe, despite only being released in November and its sales data excludes digital.
From a publisher perspective, the afore mentioned Nintendo, alongside SIE, were the notable success stories, both increasing their overall share of console/PC software sales in Europe in 2022. SIE was particularly boosted by God of War: Ragnarök, Horizon: Forbidden West and Gran Turismo 7, with sales of the latter two titles outperforming their ranking in both press/social activity and discoverability.
Reasons to Be Cheerful
Cautious optimism is evident as we start 2023; a strong release slate and the much-anticipated launch of PSVR2 and hopefully the improved supply of PS5 consoles are providing gamers with reasons to be excited, although this is against a backdrop of uncertain macro-economic conditions and the continued cost of living crisis.
*All sales performance indicators within this blog include UK, Germany, France, Italy, Spain & Nordics and are based on unit sales for all physical & digital full games, console and PC. However, please note that Nintendo Switch Digital is not included.